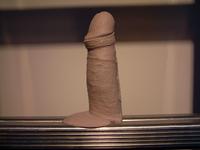 I had an email asking about the replica of Sir's cock being used on me in the stockade set.
We did actually buy a kit to do it, but on reflection, it's probably not all that hard to do if you buy your own materials – it'll be a lot cheaper too.
You'll need:
The first step is to take a cast of the cock using the alginate. Follow the instruction on the pack and make up about 0.5l of it. Generally there's an optimum temperature of water to use, around 21°C – but check the pack. It will set within 5-6 minutes, so work fast.
Wet the inside of the plastic cylinder slightly and insert it over your hard cock, make sure there's a good seal round the bottom. Now pour the alginate into the tube, ensuring it completely covers the cock. Make sure the cock is in the middle of the cylinder and not touch the sides.
Wait for the alginate to go off – you need to keep hard during this time :) Plenty of porn, poppers and arse play seems to help. Sitting down also helps!
After 5-6 minutes, go soft and gently pull out.
Now make up the silicone casting rubber according to instructions and pour into the mould. Generally it takes about 24 hours to cure, but check your product.
After it's set, peel off the alginate carefully to extract the cast – give it a wash with some warm soapy water and off you go!
Please bear in mind, this is mostly guesswork (we haven't done it yet!) – don't hold me responsible for chemical burns, cocks stuck in moulding paste or other mishaps ;)