My owner and I went to Pride in London and marched in gear as part of the Pup Walk – something we'd not done before, in fact, it's been years since either of us have been to Pride at all.
The weather was appalling and we stood around huddled under umbrellas waiting to start walking but once we were underway it wasn't too bad, and at least we were waterproof! Pretty much everyone lining the parade route loved the pack (I think there were a good 20 pups plus handlers) although you could see the odd tourist looking rather confused. Being an ancient and arthritic old mutt I didn't walk on paws, although one pup, Spot, did for most of the way – an absolutely heroic effort.
It was brilliant to catch up with friends old and new, and I was sorry not to be able to hang around afterwards, I needed to get dry & warm :)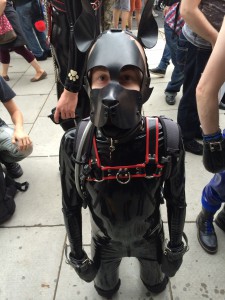 I think this is one of the best pictures anyone's ever taken of me, in or out of gear.