We've just finished building out our new playspace so I thought I'd write up some good vendors and materials in case it's of use to anyone else thinking of building their own.
We had a pretty limited area to work in but wanted something to replace our sling frame with something a bit more versatile for rope work (bars to tie to and strong enough to suspend from) but also still able to hang the Master U sling from. The room isn't particularly big and a door is inconveniently located in the middle of one wall but what we've ended up with actually takes up less room than the sling frame.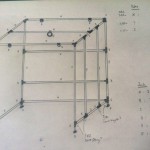 We settled on a metal tube/clamp system – this looks like scaffolding but is actually designed for permanent installs of things like guardrails and ramps. There are a few suppliers of the stuff (see the list at the end) and most will cut the tube to length for you – the clamp fittings themselves come in various shapes so you can build out whatever structure you like and all just slots together with an allen key and grub screws.
We're using 42mm OD steel tube which seems more than strong for our purposes but you may want to use larger diameter to span longer distances (but you can't easily mix-and-match diameters).
Don't underestimate how heavy this stuff is though especially when working at height, you're probably going to need a couple of people to put it up. A mistake we made (although it's worked out fine in the end) is that we tried to get all of the tubes in the same plane, i.e. the extra bondage bars inside the outer frame are joined with T-pieces. In hindsight it would have been a lot easier to use offset clamps so that the bondage bars could have been added on separately from the rest – as it was it took quite a lot of jiggling and tweaking to get all the ends in simultaneously.
We also put up some mini stage lighting in the top corners that uses PAR-16 cans with barndoors, and remote controllable coloured LED 240v GU10s.
Suppliers
Tube clamp – The Metal Store
Rubber flooring – Easimat
PAR-16 cans & barndoors – Thomann
LED lighting – LED Hut
Shibari ring – Puppy Cages
Please be careful when using tube clamp for a bondage frame and over design where necessary, especially if intending to suspend people from it.