A year ago I made a pilgrimage to Carrara Designs in Belgium to pick up a long-wanted chastity belt. Stupidly I didn't order a front-mounting dildo to go with it at the time and Carrara have since been too busy to supply one separately.
Whilst we've been able to improvise with some rope I wanted something a bit quicker to put on and off.
So, in this post I'll show you how to make an easy-on dildo for Carrara belts for less than £15, one that even has a small advantage over Carrara's!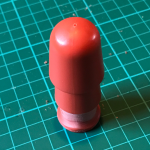 The main thing you'll need is a vac-u-lock plug – I found a cheap one from LoveHoney that's designed for a harness but we'll be cutting it up a bit anyway. Trim away the excess and sand it smooth and you'll be left with a plug.
Luckily mine was already hollow, otherwise you'll have to drill it out a bit.
The next step is to fix an M5 bolt into it (this is the thread size on the Carrara). First test fit the bolt and mark the location where the thread stops on the face of the belt with a bit of tape. Mine ended being about 15mm but as they're all hand built you should check yours!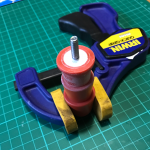 You're then going to embed the M5 bolt into the vac-u-lock plug with the thread sticking out. I used some epoxy putty but you could use liquid resin; whatever you have to hand.
This is the finished plug mounted on my Carrara – the base does rest on the lock slightly but that's not a problem.
And here's the advantage – you can easily swap dildos on and off, different sizes and styles, as it's a vac-u-lock!