In the third part of our rope bondage tutorial we cover the basics: rope types, storage and care
Rope Material Selection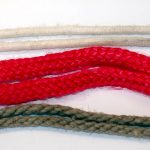 There are a great variety of rope materials on the market, both natural & synthetic. The image to the left shows white cotton rope at the top, a flat-weave nylon in the middle and some 6mm hemp at the bottom.
Synthetic ropes have the advantage of being cheap and relatively easy to get hold of and some even come with a "flat wave" that causes the rope to lie flatter against the skin. Materials include polyester, multi-filament polypropylene (MFP) and nylon. The biggest disadvantage with synthetic materials is the burn speed: it requires very little speed of rope against skin to potentially cause rope burn.
There are as many natural rope materials as there are synthetic: hemp, jute and cotton are the most common. All have various pros & cons.
| | | | | | | |
| --- | --- | --- | --- | --- | --- | --- |
| Material | Cost | Stretch | Burn Speed | Comfort | Knot Holding | Notes |
| Hemp | High | Low | Medium-High | Medium | Good | Amazing "grassy" smell |
| Jute | Medium-High | Low | Medium-High | Medium | Good | |
| Sisal | Low | Low | Medium | Poor | Good | Very splintery, not recommended |
| Cotton | Low | High | High | Good | Medium | |
| Nylon | Low | Medium | Low | Poor | Good | Waterproof! |
| MFP | Medium | Medium | Medium | Good | Poor | Waterproof, easy clean. Do not use monofilament polypropylene |
Don't be limited by "traditional" materials and use whatever takes your fancy; bungee cord, webbing straps and even medical rubber tubing can all be used. Just be sure to check the burn speed of a new material by pulling it quickly through your hands first. On balance though, I personally prefer hemp & jute.
Rope Anatomy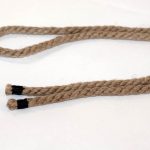 You will often see references to the "ends" & "bight" of a rope: Japanese-style bondage is mostly done with a doubled up length of rope so your tying is done twice as fast! A loop formed at the middle (or anywhere else) of a piece of rope is called a bight. The dangly bits that have been whipped or knotted are the ends.
Rope Care
Be sure to look after your rope, keeping it clean & dry between sessions. Whilst this is common sense to a certain extent this is especially important for ropes made from natural materials. Hemp & jute will deteriorate rapidly if left damp and will benefit from an occasional oiling with jojoba, tea seed, hemp, mineral or mink oil.
Wash your rope in the machine inside an old pillow case if necessary and if the rope has been exposed to any nasty pathogens just throw it away and buy new.
Between sessions neatly bundle your rope in a coil.